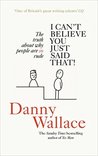 I Can't Believe You Just Said That: The Truth About Why People Are So Rude by Danny Wallace
My rating: 5 of 5 stars
The best toilet book I've ever read™. I thought I might enjoy this book less, because I'd heard it plugged by Wallace on a few podcasts but it was still really good. At times his joke writing isn't funny and will just make you groan but other times it's more on point. The hook is the 'Hotdog Incident', which was very entertaining to read about and is a subtext to the whole book, it is referred back to every chapter. The book is essentially one man's odyssey to uncover what went wrong that day and why. I am quite curious to find his infamous Tripadvisor™ review of the hotdog place but I assume it has likely been deleted.
My favorite chapters are the one where he confronts a man, who flamed him over twitter, in real life (he has been subsequently banned) pure poetic justice. The section on ASBOs (includes the tale of Stephen Gough— a man who just wanted to walk around naked), it confirms that ASBOs just don't work, what a waste of time, money and resources. He also mentions earlier that broken windows theory is false. The tale of Antonas Mockus also inspired me to watch a documentary about him.
Each chapter sets out a theory on the hotdog incident speaking to an expert in the field and outlining research. Often, it will end with a relevant anecdote. The book is well referenced but I was unable to find this purported game that would make people less rude, developed by Israeli researcher Amir Erez.
The 2018 version bears a different title, "F*** you very much', I guess he wanted something snappier. I think I was the first person to check this out from the library, which was a bonus.
The book would be remiss if Wallace didn't revisit the hotdog parlour and it doesn't disappoint. Though the encounter is somewhat anticlimactic, given the tone of the rest of the book I feel it is apt. His spirited eloquent defence of political correctness, definition of banter and rebuke of those who hide behind the veil of honesty, to be rude with impunity were all excellent.
Quotes
The national tragedy that is the acceptance of 'banter' as a form of witless rude communication between ape-men.
When the rude writer Giles Coren was challenged on a piece he wrote labelling the outpouring of Grief over David Bowie's death insane, some people asked him why he felt the need to always be condemnatory. […] he replied 'well, you don't have to write 1200 words about something in the news every week. Not condemning things is a luxury I don't have.' Once commentators sought to provoke thought.; now they're forced to troll for reactions.
By cracking down on low-level 'rude' behaviour, authorities created huge friction between the police and public. Particularly because a lot of the people seemingly targeted by them were in poorer areas populated largely by ethnic minorities. (On broken windows theory)
Even the Kremlin itself in 2015, gave Stop a Douchebag 8 million roubles, which they mainly spent on stickers. The world is coming to something when even Vladimir Putin is sick of rudeness.
A little rule about Presidents 101. Never draw a red line. It's like with a toddler. "If you throw that spoon again, you're not having dinner!" You now give the toddler the power to test you. So the kid throws the spoon. Now what? Now your wife is mad at you because the toddler is screaming, the spoon's on the floor and the toddler isn't going to bed if you don't feed her…' (How pertinent for Theresa May)
Political correctness has really only ever been a system developed to protect those in a vulnerable position by discouraging those in the majority from needlessly, rudely offending them. Disabled people. Black people. Muslim people. Political correctness in its simplest form just means choosing your words more carefully, but so frothy-mouthed is the horde they can't see the logic for the bile. 'These bloody do-gooders!' they spit. You'll notice that political correctness is a phrase that often goes hand-in-hand with 'do-gooders'. People hate do-gooders, doing good. Well, what's your alternative, mate? Do-badders? Do-nothings?
The get-out clause is admittedly genius: whether famous or at school, rude people have found a way to say whatever they like, so long as they claim it as honesty.
You can't argue with 'honesty'.
But it's not honest. Sandra is not a bitch. You're saying Sandra is a bitch.
With the 'honesty' clause, we have tricked ourselves into thinking that we somehow have to take other people's opinions as fact. But it gets worse. Because we then have to applaud that person for having the guts to call it how it is.
You and I both know, that's not calling it how it is.
You're not Only Being Honest – you're stating an opinion and shutting down the conversation. It shows a lack of confidence in your own argument. You don't want to discuss it any further, you just want that cathartic release and to reach for the high ground. You have nothing more to say. You're not Telling It How It Is – you're being a dick and asking people to praise you for it.
(I'm sorry. I'm only being honest.)